Restaurant Grease Pumping Service
Whether you're in San Diego or Los Angeles searching for a grease trap and grease interceptor pumping service, The Grease Company is here for you.
Food servicing establishments often find themselves with plumbing issues when they fail to service their grease trap causing it to be full of FOGS waste from top to bottom.  Unfortunately, when a grease trap or grease interceptor level is nearly to the top, it has surpassed the maximum allowable FOGS capacity or is considered to be overfilled which is the reason why the device is about to overflow. By abiding the best management practice, you will keep yourself free from having to deal with plumbing dilemmas or a shut down by the city public works.
The Device that saves us from Grease Contamination of the sewer
A Grease Trap (or a Grease Interceptor) is a common component of a commercial kitchen commonly found at restaurants, hotels, food manufacturing facilities, etc.. It is a device into which FOGS contaminated wastewater flows through before entering the sewer line. The device is installed between the kitchen sink and the drainage system. It is designed to intercept and trap FOG and food sludge while allowing filtered waste water to escape towards the sewer.
Almost half a million tons of Grease and fats enter the sewerage system every year. Grease are nasty products that can easily get stuck in the pipe walls resulting in clogs and blockage in a sewerage system, and damage to the waste water treatment equipment. If allowed to enter a natural water source, FOG can severely damage the environment.
However, it is very important for the staff of a food business establishment to know the right way of treating the device that saves us from grease pollution- for it to keep working effectively. But before you do that, you should know more about the device? Who needs to install one in their establishment and what size of the device will you need?
What is a grease trap?
While running a restaurant it is important to focus on quality of foods and customer service. But it equally important to keep a close eye on the plumbing system and the cleanliness of your establishment. A grease trap or a grease interceptor is an important and essential part of plumbing system of a restaurant. Every commercial kitchen in the USA is required to install one of this device in order to prevent clogs and other plumbing issues. The main function of the interceptor is to deal with FOG and solid food sludge which a busy restaurant produces every minute while they cook and fry for their countless customers.
Even with the facility of reducing the amount of FOGS that are washed away in the kitchen sink, it is impossible without the help of a grease trap to prevent all of them from going into the sewerage system. The device does not only intercepts and filters those unwanted greasy culprits but also holds them inside its facility in a tank called sludge tank until it is manually cleaned by an grease management expert. They are usually found in the kitchen, near the kitchen. But grease interceptors are found either underground or outside of the establishment because of their larger size.
While choosing a grease trap for your establishment you should consult a manufacturing professional as well as your local commercial kitchen regulations to find the perfect device for your business.
According to the law of United States, it is obligatory for any business in the food & beverage industry to install and regularly maintain a grease trap/grease interceptor in their establishment.
For Emergency Grease Trap Pumping Call
How does it Work?
Both grease traps and grease interceptors follows a very simple principle of density to perform its operation. Water is 10 to 15 percent less dense than grease. After waste water enters the trap, the baffled structure of the device allows the water to cool down. Because of lower density- cold, solidified grease along with fats and oils float on top of the water and a tube that dips below the water surface pulls all the water out the device.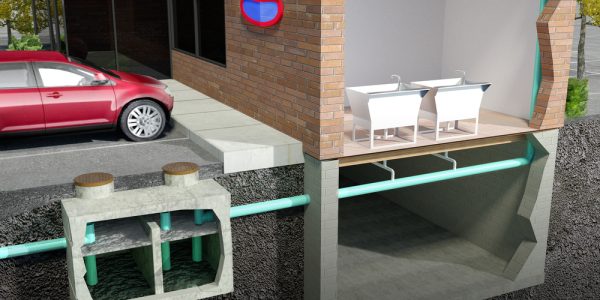 Grease Trap Cleaning
Grease traps work from dawn to night without a break and handles gallons of dirty water every day. The device needs to cleaned periodically to work effectively. The sludge tank of a trap has a limited holding capacity and needs to be evacuated once in a while. The frequency of grease trap pumping depends on the size of the device, ration of waste water flow that it handles, and few other criteria. Usually, its best practice to hire a professional for grease trap cleaning once in every month. The Grease Co. can set up a schedule for pumping after inspecting your device.
Affordable Grease Trap Pumping Services
The Grease Company provides a complete set of comprehensive affordable grease trap pumping services throughout San Diego, Los Angeles, Orange, Riverside, and San Bernardino Counties. Our full line of commercial kitchen plumbing services includes, affordable grease trap pumping, grease interceptor cleaning, grease trap repair, grease interceptor repair, hydro jetting, used cooking oil collection, etc. We are well known for our dedication towards our customers, and our goal is to provide the best and a long-term solution regarding commercial kitchen plumbing in affordable prices. Call (888) 789-1090 to learn more, or email us with your details to get your free quote today.