Attention all restaurants and all other food servicing establishment with commercial kitchens in San Diego County! The Grease Company is here to keep your grease traps clean, efficient, and compliant with local regulations. Our professional grease trap cleaning service is available throughout San Diego County, covering every city from Carlsbad to Chula Vista!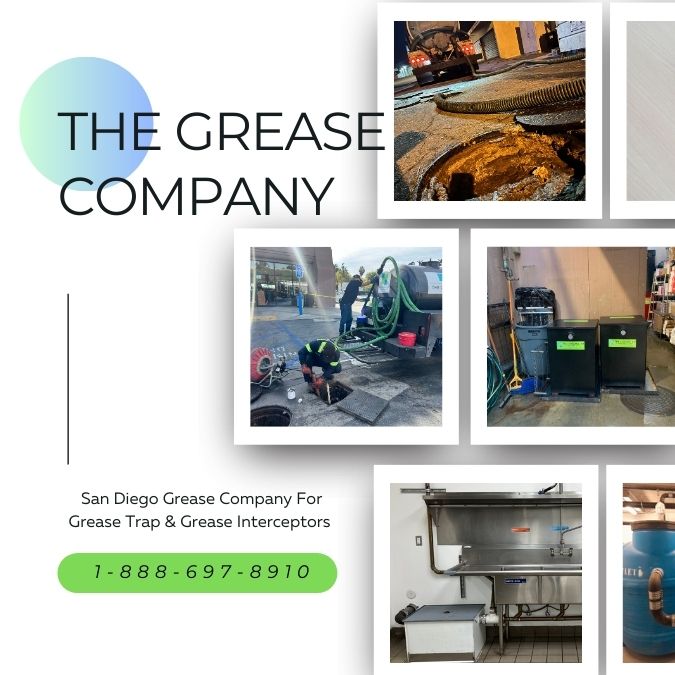 Grease Trap Preventative Maintenance to Comply with the 25% FOGS Rule
Introduction: At [Your Business Name], we understand the importance of keeping your commercial kitchen running smoothly and efficiently. Grease trap cleaning and maintenance is an essential part of this process. Our experienced team of professionals is dedicated to providing top-notch grease trap cleaning services throughout San Diego County.
The 25% FOGS Rule: San Diego regulations require that grease traps be cleaned when the combined amount of fats, oils, grease, and solids (FOGS) reaches 25% of the trap's total volume. This is known as the 25% FOGS rule, and it's designed to prevent waste water contamination and protect the environment.
Preventative Maintenance: Our grease trap cleaning service focuses on preventative maintenance to ensure that your grease trap is always in compliance with the 25% FOGS rule. Regular maintenance not only helps you avoid fines and penalties but also extends the life of your grease trap and keeps your drains running smoothly.
Our Services:
Grease trap cleaning and pumping
Assistance with record keeping and compliance documentation
Emergency grease trap cleaning services
Professional recommendations for optimal grease trap performance
Why Choose Us?
Experienced and trained technicians
Prompt and reliable service
Competitive pricing
Exceptional customer service
Environmentally responsible practices
Schedule regular maintenance with our expert team in San Diego County to keep your kitchen running smoothly and in compliance with local regulations. Contact us today for a free quote and to discuss your grease trap cleaning needs.
Why Clean A Grease Trap?
In San Diego, regulations mandate that all commercial kitchens install and maintain Fats, Oils, Grease, and Solids (FOGS) devices, such as grease traps and grease interceptors. These devices play a crucial role in preventing sewer sanitation overflows and protecting the environment.
San Diego FOGS Regulations: The regulations set forth by the City of San Diego require all food service establishments (FSEs) to install and properly maintain FOGS devices in order to prevent blockages in the sewer system, overflows, and pollution of local water sources.
Grease Trap and Grease Interceptor Requirements: Commercial kitchens must adhere to the following guidelines in accordance with San Diego's FOGS regulations:
Install appropriate FOGS devices: All FSEs must have a properly-sized and approved grease trap or grease interceptor installed.
Regular maintenance: FOGS devices must be maintained regularly, ensuring they do not exceed the 25% rule (when the combined amount of FOGS reaches 25% of the device's total volume). This involves routine inspections, cleaning, and pumping by a licensed service provider.
Compliance documentation: FSEs are required to maintain records of maintenance and cleaning, demonstrating compliance with the 25% rule and ensuring that FOGS devices are functioning correctly.
Best management practices: Commercial kitchens should implement best management practices (BMPs) to reduce FOGS discharge, such as scraping plates, using absorbent materials for spills, and regularly cleaning grease-laden equipment.
Employee training: Staff should be educated on the importance of FOGS management, proper cleaning techniques, and appropriate disposal methods.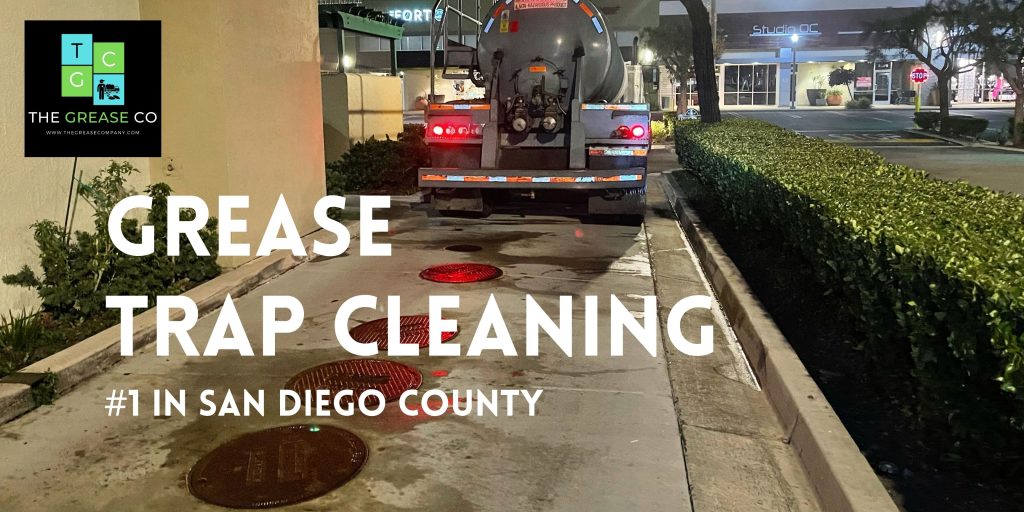 Areas We Service
We're proud to offer our exceptional grease trap cleaning service in all cities across San Diego County, including:
Carlsbad
Chula Vista
Coronado
Del Mar
El Cajon
Encinitas
Escondido
Imperial Beach
La Mesa
Lemon Grove
National City
Oceanside
Poway
San Diego
San Marcos
Santee
Solana Beach
Vista
The Importance of Cleaning A Grease Trap and Grease Interceptor
Neglecting grease trap maintenance can lead to a host of issues for your commercial kitchen, including major plumbing problems, overflows, and drain backups. Regular grease trap cleaning is essential to prevent these issues and ensure your kitchen operates efficiently. Don't let poor maintenance disrupt your business – schedule routine grease trap cleaning services to keep your plumbing system in optimal condition and avoid costly repairs or fines.
The Grease Company San Diego County's #1 Choice FOGS Waste Removal
Choosing The Grease Company for your grease trap cleaning needs in San Diego County is the smart choice. With our team of experienced professionals, commitment to excellent customer service, and dedication to ensuring compliance with local regulations, you can trust us to keep your commercial kitchen running smoothly and efficiently. Don't let grease build-up become a problem for your business – partner with The Grease Company today for a cleaner, safer, and more environmentally responsible future. Contact us now for a free quote and to schedule your grease trap cleaning service!