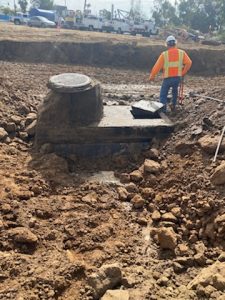 The increasing number of commercial real estate redesign and restaurant conversions has been increasing rapidly throughout California. Demolition companies are finding that most grease traps and grease interceptors are unsalvageable or need to be removed and backfilled in order to move on with the project.
Before demolishing or removing a grease trap it must be emptied removing all FOGS and wastewater. At The Grease Company, we understand the necessities of properly pumping and cleaning the grease trap or grease interceptor for plumbing, demolition, and contractors. Our team of experts are here to help in grease trap removal for the project.
What is FOGS?
The term FOGS refers to fats, oils, grease, and solids. It is a compound and highly toxic mix of animal fats, vegetable oils, grease and of course food solids. They consist of triglyceride and glycerol. However, there are two different type of FOGS. They are-
Yellow Grease: These type of FOG are the result of deep frying. They are inedible and unadulterated. We can recycle them into various useful products. In order to so, we must preserve them maintaining the standard, and hand over to a licensed IKG hauler if possible.
Brown Grease: They are FOGS that are not recyclable for their higher level of toxicity. They are floating grease, settled solids, and wastewater in a grease trap. Being easily flammable, they can possess a danger to our establishments if not handled carefully.
FOGS are dangerous elements both for our establishments and the environment of our city. If we allow them to pour down in the drain, they will cool down, and get harder in sewer lines. And they will cause blockages, resulting in expensive sewer repairs, or penalties. FOGS can seriously damage our environment causing hazardous pollution. Improper disposal of FOGS may cause fire accidents, and threaten both your own establishment and the entire neighborhood. Statistic tells us, our government spends millions of dollars each year on unclogging sewer pipes, and waste management.
Grease Trap & Grease Interceptor Removal
Construction and development sector is booming in the United States. In busy cities or in developing areas, constructing new establishments has become a common scenario. Especially after the brutal attack of COVID 19, they are shutting down many old businesses including restaurants or businesses those were under the food & beverage industry.

Demolition of restaurants includes removal of grease traps. Every restaurant in the USA has a grease trap or a grease interceptor which contains tons of toxic Grease and other dangerous elements. While removal of grease traps, demolition companies must pay attention to these traps to prevent all the bad things FOGS can create if they are disposed of irresponsibly. Also, that goes against the guideline of CDFA (California Department of Food & Agriculture).
Grease Pumping Service
The Grease Co. is the fastest growing plumbing company in Southern California. We are mainly located in Buena Park, but we offer our services in almost all the major cities of California including Los Angeles, Long Beach, San Diego, Hollywood, etc. Our grease trap cleaning, and removal experts can help demolition companies in removing grease traps from restaurants safely and by following the guidelines of the authority.

Our Grease Trap Cleaning Service includes-
Complete FOG (fat, oil, grease) removal, washing and scraping of walls and baffles, inspection of inlet and outlet points, deodorization and replacement of lids, reporting of trap condition and abnormalities, trap audits to maintain service quality.
We are fast to respond to our customers call, and available 24/7. Contact us to get your quote today..
Contact
1-888-697-8910
Los Angeles, Orange, Riverside, San Bernardino, San Diego, Santa Barbara, Ventura, and The Bay Area