Commercial Kitchen Services
3 Tips For Grease Trap Cleaning Service
Choosing The Right Grease Trap Cleaning Company Can Be Very Confusing.  Improper and Lack of Service Can Cause Big Issues For The Commercial Kitchen's Plumbing Lines.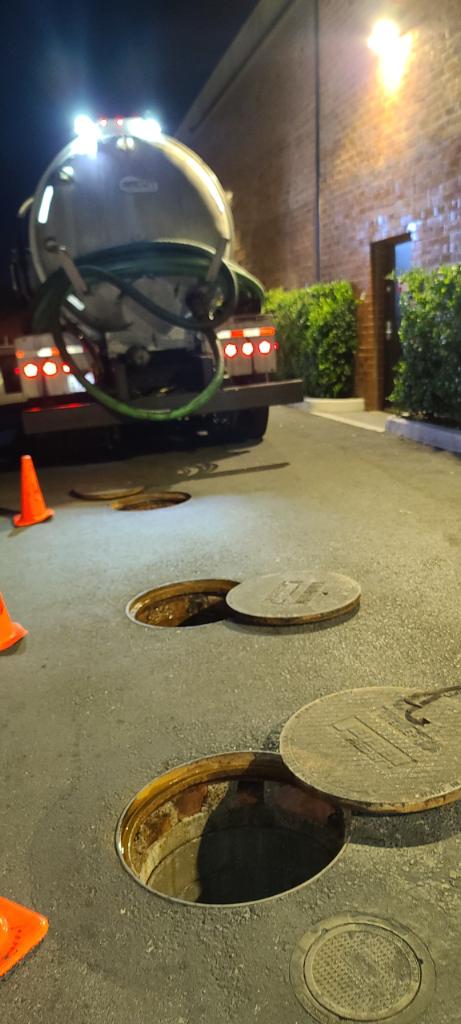 CHOOSING A GREASE COMPANY
If you operate a restaurant or a commercial kitchen you understand the important role that of the drainage system in the kitchen.  It is likely that when your drains are slowing down or backing up causing an overflow that your grease trap or grease interceptor will need to be cleaned.  Excessive fats, oils, grease, and food solid waste also known as FOGS is a primary reason that drainage system for food servicing establishments back up and overflow.
Excessive grease and food solid waste in the grease trap or grease interceptor will cause major plumbing issue and overflow. It's important to clean the grease trap and/or the grease interceptor frequently to prevent unwanted plumbing problems.
Choosing a grease trap & Grease interceptor cleaning service
COMPLETE PUMPING
It is a long established fact that the grease interceptor or grease trap waste will have 3 parts; grease, wastewater, and food solids.  The system is designed to gravity settle FOGS waste and when its content of FOGS is at 25%, all content must be removed to ensure that it's not contaminating the sewer system or causing a plumbing issue.
When choosing a grease trap or grease interceptor cleaning company, it is important that all content must be removed to properly clean the device.  Since the majority of the pumping service is done doing off-hours, we highly recommend asking for after photos to ensure that all content was removed.
In Southern California (Los Angeles, Orange, Riverside, San Bernardino, San Diego, Ventura, Santa Barbara) it is mandatory that all grease traps and grease interceptors are to be pumped out to be considered as a complete service.  Skimming the tank and only taking out the grease floating on the top is sometimes done by some companies to entice the establishment but in the long run, can cost cause the business a lot of headaches from issues that it will bring.
Manifestation
REPORTS
A manifest report must be provided by the company as proof of what service has been performed at your location.  This is form that the city inspectors will ask for as proof of service for the grease trap or grease interceptor.
Without this report the city can give the business a citation or immediately ask they business to stop operation, especially if the see that the device has excessive FOGS content during the time of inspection.
FAQ
Most frequent questions and answers
Grease Trap & Grease Interceptor Removal
If you are no longer using  the grease trap or grease interceptor, it's important to demolish it or fill and cap it.  The residual residue can weaken the structure and cause it to collapse.
What Is The Cost To Clean Up A Grease Trap?
The cost to clean a grease trap will vary based on different variables.
Size
Condition
Accessibility
To learn more call 1-888-697-8910.
What is the average grease trap or grease interceptor size?
There are not average size for a grease trap or grease interceptor.  Every city has different requirements and guidelines.
How will I know if my grease trap or grease interceptor is full?
A grease trap or a grease interceptor is full once the FOGS content reaches 25%. On average a small grease trap are suggested to be cleaned every month while larger interceptors are cleaned every quarter.
Note: Determining if the grease trap is full because of a bad odor or when a plumbing issue is present is not an indicator that the unit is full.
APPROVED IKG HAULER
All grease trap and grease interceptor waste haulers must have proper licensing and be approved by the CDFA to haul and dispose of FOGS waste.  It is the hiring company that is responsible to find out if the grease trap cleaning company that they are using is properly licensed to haul away the FOGS waste that is being removed.
Unlicensed haulers, will not be able to provide manifestation reports and city inspectors will require the business to employ a company that can provide proper documentation.
Get In touch
Leave us a message
Servicing:
Southern California
888-697-8910
The GREASE Company