What is a Grease Interceptor?
Due to their large size, grease interceptors can go more extended service periods and are more efficient than small grease traps. The bulk of cities in California will likely demand a food servicing establishment to place a grease interceptor because of its capacity to hold a higher amount of FOGS
Unlike grease traps,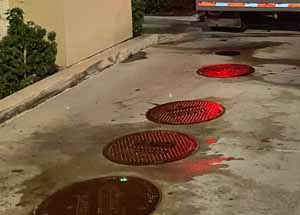 Large grease interceptors require larger spaces for this reason; they are placed outdoors, typically in the parking area. Unlike grease traps, these devices can go longer cleaning service intervals, grease interceptors are more extensive, and their storage content volume is much greater. Since these devices can hold a larger capacity, service increments are from three to six months. The majority of grease interceptors mounted outdoor in the parking lot buried in-ground with a round cast-iron or hard plastic access point typically made by Jensen Precast, Schier, Trapzilla, or Pro-Cast.
Though newer developments such as high-rise buildings with no parking lots, it is not uncommon to find above FOG-Ceptor or Proceptor grease interceptor tanks made by Zurn or Xerxes. Both Zurn and Xerxes tanks are the most common FOGS interceptors installed in properties with limited space for in-ground grease interceptors such as parking garages. Because of the limited access, cleaning these devices will be more costly since it will need special equipment such as a low-profile vacuum truck.